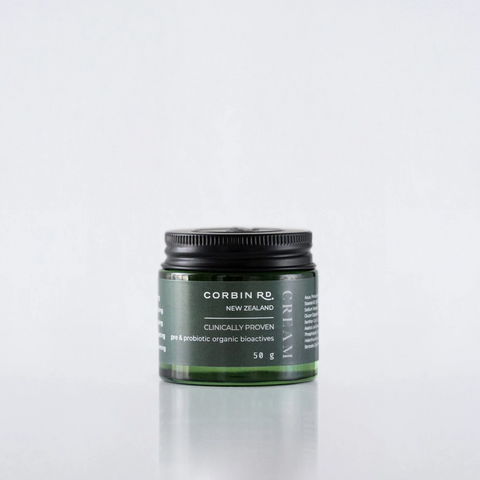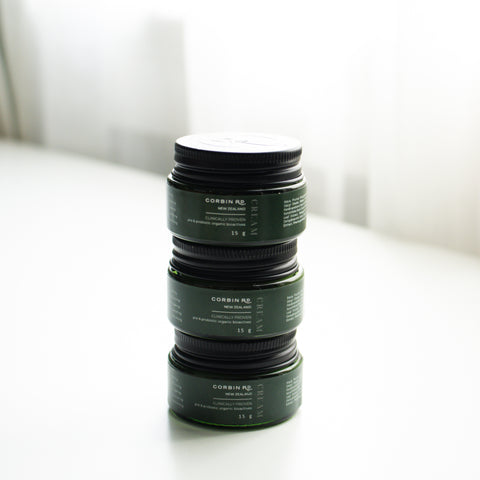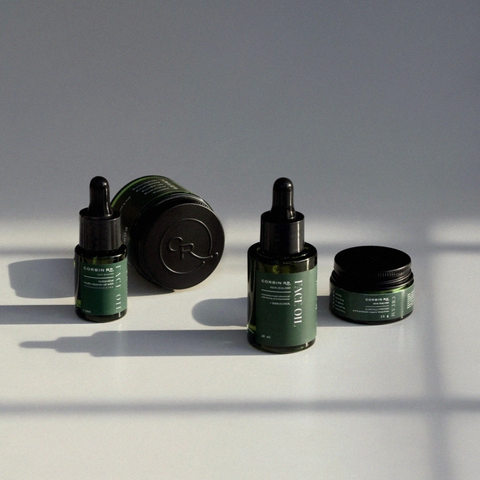 SMART Face Cream
A complete hydration, repair and anti-aging eco-friendly skincare solution. New Zealand made Corbin Rd's skincare range; SMART face cream is literally smart.


What is SMART? 
S – Soothing

M – Moisturizing
A – Anti-aging
R – Rejuvenating
T – Transforming
Environmental aggressors, stress and exposure to harsh chemicals and allergens from food and personal care products can significantly disturb the skin's biome and lead to redness, irritation, and infection. Chronic exposure to those triggers can induce inflammatory processes that accelerate the normal ageing process and may leave the skin biome disturbed, resulting in skin redness, irritation and infection. In addition, overexposure to UV radiation overstimulates melanogenesis in exposed and unprotected skin resulting in hyperpigmentation. 
Aspired to address those issues, Corbin Rd created SMART face cream.
Why we love SMART face cream:

Corbin Rd's SMART face cream contains New Zealand's own scientifically proven, skin fortifying, organic bio-actives and delivery system, alongside the best the world has to offer in biome repairing and anti-ageing hydration. This is nature personified and whipped into a single pot.

Corbin Rd has carefully selected and combined clinically backed and globally renowned botanical skin brightening, skin calming and skin soothing compounds that effectively boost the skin with immediate and long-lasting hydration and act as an incredible moisture retainer that promotes skin vitality and glow.




The clinically proven botanical blend of New Zealand native Red Seaweed, Black Fern – Mamaku, Kawakawa, Manuka Honey and New Zealand grown Gotu Kola and Liquorice Root, work in synergy with Bakuchiol, Kakadu, Frankincense, Ceramides and Pre & Probiotics to create Corbin Rd's ultimate, unrivalled SMART skin formula to soothe, repair, brighten and reverse the signs of ageing.


All New Zealand ingredients are harvested using traditional Te Kanga Maori practices to ensure respect for the habitat and sustainability.

New Zealand sourced bio-actives
Land and sea botanicals have developed marvellous biomimetic biopolymers as a defensive and adaptive mechanism to survive and thrive in their unique New Zealand environment where the thin ozone layer offers little protection against aggressive UV rays.
New Zealand native Red Seaweed: Proven brightening properties, anti-inflammatory

New Zealand grown Gotu Kola: Brightening skin by reducing pigmentation

New Zealand native Black Fern – Mamaku: Rapid hydration and immediate lifting and tightening of the skin, outstanding antioxidant and antipollution properties

New Zealand grown Liquorice Root: Skin brightening and depigmentation

New Zealand native Kawakawa Tree: Medicinal plant in traditional Maori healing featuring calming, detoxifying, anti-inflammatory and anti-microbial benefits

New Zealand native Manuka Honey: Calming and soothing inflamed skin with non-peroxide, anti-inflammatory and anti-bacterial properties
How to use:
Use after cleansing and exfoliating mornings and evenings.

The amount to use depends on the condition of your skin. Start with a pea-sized amount and lightly massage on. Always use upward and outward strokes.

The formula is designed to be concentrated and light. There is no need to use a lot as you don't want to waste these beautiful ingredients.

It can be used, and Corbin Rd recommend using it, around the delicate eye area.

Use over lips at night to moisten and plump while you sleep.

If you are over 25, use a little extra at night around the mouth and neck for fine line prevention.

Use under your sunscreen and makeup.

This formula has no sun-sensitizing ingredients, which means it is ok to use during the day.